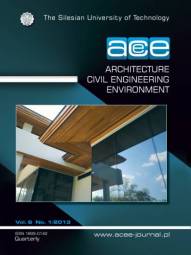 Volume 6
1/2013
Architecture
ARCHITECTURAL RESEARCH ON SEMI-PRIVATE SPACE IN MULTI-FAMILY HOUSING DEVELOPMENT
Joanna ZABAWA-KRZYPKOWSKA,
5-13
Keywords: Semi-private space, Quality of life, Residents and outsiders activity, Accessibility, Visibility.

Download abstract

Download article
Civil engineering
DURABILITY ASSESSMENT OF BUILDING MATERIALS EXPOSED TO ATMOSPHERE AGENTS BY TESTING IN SIMULATED ENVIRONMENT
Jerzy BOCHEN,
17-25
Keywords: Weathering; Simulated environment; Accelerated ageing tests; Durability assessment.

Download abstract

Download article
RESISTANCE TO PERMANENT DEFORMATION IN BINDER CONTENT AND FILM THICKNESS VIEWPOINT
Eva REMI©OVÁ,
27-32
Keywords: Asphalt mixture; Permanent deformation; Triaxial test; Creep rate; Specific surface; Bitumen film thickness.

Download abstract

Download article
DOUBLY CORRUGATED COLD-FORMED ARCH ROOF PANELS. ADVANCED IDENTIFICATION OF GEOMETRICAL AND MATERIAL PROPERTIES
Ryszard WALENTYŃSKI, Robert CYBULSKI, Janusz MAZURKIEWICZ,
33-47
Keywords: Doubly Corrugated; Cold-Formed; Steel; Self-Supporting; Panels; 3D Optical Scanning; Material Tests.

Download abstract

Download article
EXPERIMENTAL TESTS ON THE EC6 COMPRESSIVE STRENGTH OF MASONRY MADE OF HOLLOW CALCIUM SILICATE UNITS
Robertas ZAVALIS, Bronius JONAITIS,
49-57
Keywords: Hollow Masonry Units; Calcium Silicate; Thin Layer Mortar; Bed Joint Thickness; Characteristic Compressive Strength.

Download abstract

Download article
DISCUSSION
about Łukasz SKARŻYŃSKI and Jacek TEJCHMAN, The effect of aggregate characteristics on the fracture behaviour of fine-grained concrete under tensile loading Architecture, Civil Engineering, Environment (ACEE) 2/2012, p.55-66,
59-69
Keywords: ---

Download article
Environment
ZERO CONCENTRATE FLOW DISCHARGE MEMBRANE TECHNIQUES FOR NATURAL WATER TREATMENT
Alexei ANDRIANOV, Tamara GORBUNOVA,
73-80
Keywords: Reverse osmosis; Spiral wound module; Water softening; water treatment; Zero-discharge.

Download abstract

Download article
THE TREATMENT OF SURFACE WATER IN THE HYBRID MEMBRANE REACTOR COMBINING ION EXCHANGE, ADSORPTION AND ULTRAFILTRATION
Mariola RAJCA,
81-86
Keywords: Natural organic matter (NOM); Ion exchange; Adsorption; Ultrafiltration; Hybrid membrane reactor.

Download abstract

Download article
MODELING STORAGE CHANNEL USING SWMM 5 SOFTWARE
Grzegorz ¦CIERANKA,
87-94
Keywords: Stormwater flow control; Numerical hydraulic model; Retention systems for stormwater sewers; Stormwater runoff.

Download abstract

Download article
BACK TO TOP